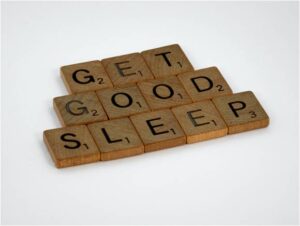 Slapend afvallen, wie wil dat nou niet? Als je graag wat kilo's kwijt wilt, denk je natuurlijk eerst aan gezonder eten; minder snoepen en snacken tussendoor, kleinere porties, meer groenten en fruit, minder alcohol. Ook ga je weer meer sporten en bewegen. Probeer je het hardlopen weer op te pakken of pak je wat sneller de fiets. Natuurlijk is dit ook zeker belangrijk als je graag wilt afvallen, maar ook met slaap kan jij zorgen voor een gezonder gewicht.
Als je 's nachts te weinig slaapt, gaat je lichaam meer ghreline produceren. Dit is het zogenaamde hongerhormoon dat ervoor zorgt dat je overdag sneller honger hebt. Je gaat meer eten en hebt vaak ook meer behoefte aan ongezonde voeding met veel suikers of ongezonde snacks tussendoor. Dit kan dan leiden tot overgewicht.
De tegenhanger van het hongerhormoon ghreline is leptine. Dit hormoon wordt door te weinig slaap juist te weinig geproduceerd. Leptine zorgt er voor dat je een verzadigd gevoel hebt en je dus stopt met eten.
Als je dus te weinig slaapt produceert je lichaam teveel ghreline en te weinig leptine en zijn je hormonen dus uit balans. Hierdoor kom je sneller aan in gewicht. Daarnaast zorgt een slaaptekort er ook nog eens voor dat je stofwisseling langzamer gaat, waardoor je ook in gewicht toeneemt.
Oftwel; wil je een paar kilo's kwijt?Ga lekker slapen! Zorg dat je minimaal 7 uur, maar beter nog 8 uur, slaap krijgt per nacht en je zal merken dat je hormonen beter in balans komen.
Slaap jezelf naar een gezond gewicht!