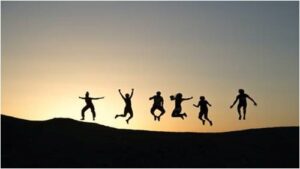 We weten allemaal dat een goede weerstand belangrijk is om gezond te blijven. Een sterk immuunsysteem zorgt ervoor dat je minder vatbaar bent voor ziekten. Maar hoe zorg je voor een goed en sterk immuunsysteem? Hoe bouw je een goede weerstand op, zodat je niet bij ieder virusje met koorts in bed beland?
Voor een goede weerstand is het natuurlijk belangrijk dat je gezond leeft, dus goede voeding, voldoende slaap en beweging. Maar wist je dat ook sociale contacten een sterke invloed kunnen hebben op je immuunsysteem?
Mensen met genoeg vrienden en sociale contacten zijn gezonder dan mensen met te weinig of geen vrienden of kennissen. Contact hebben met mensen waar jij je goed bij voelt, zorgt voor een vermindering van stress. Het geeft je ontspanning. En dan bedoel ik niet contact via social media of whatsapp, maar echt contact; samen afspreken, leuke dingen doen of gewoon even bijkletsen met een lekkere kop thee thuis op de bank.
Door fysiek contact te hebben met mensen maakt je lichaam dopamine en oxytocine aan. Deze hormonen zorgen ervoor dat je je beter voelt, vrolijker bent en positiever in het leven staat. En als je positiever in het leven staat, heb je ook minder last van stress en lukt het je beter om op zijn tijd te ontspannen. Hierdoor neemt de kans op ziekten af en verhoogt het je weerstand.
Dus gun jezelf de tijd om af te spreken met vrienden, een kopje thee te drinken met de buurvrouw of een wandeling te maken met je collega. Want het is niet alleen ontspannend en gezellig, je werkt ook nog aan een sterker immuunsysteem.
Spreek af met vriendinnen en verbeter je weerstand!